In today's technological day and age, we all feel the pressure to be plugged in and connected to our phones, laptops, tablets, smart home systems … and the list goes on. When it's time to recharge, it can be a disaster. Each device has a different charging cable and every family member has several devices. Sorting through countless cords and wires is not only frustrating but also visually unappealing. Read on for simple strategies to de-clutter and simplify the cable chaos in your house.
1. Create a Dedicated Charging Station
Photo by Arbor Mills
You can customize this idea as much as you'd like depending on your preferences and devices. Most commonly implemented as a charging drawer, you can purchase a pre-made charging dock or assemble your own. All you have to do is attach a multi-outlet extension cord to the back wall of a drawer and plug in your chargers accordingly. It has an added benefit of keeping your electronics flat and secure so you don't have to worry about drops and cracked screens. An entryway console table, an end table in the living room or a kitchen command center are great places to dedicate a drawer for charging up. It can also help promote screen-free family time during dinner by ensuring everyone's electronics are put away.
You can use tip out drawers too. Sometimes, depending on the configuration of your cabinets, you may have a space for a small tip-out drawer but not a full-depth drawer. This is often the case in front of a sink or built-in range, or when something else fills the upper portion of a base cabinet. In this example, the space behind this tip-out drawer is actually used up by a full drawer accessed from the adjacent face of the island. The space left is small, but it needn't go to waste.
A space like this is an excellent size for holding just a few power ports, which can then be used to charge an item sitting on the counter, such as a laptop or wireless speaker. You can leave the drawer open while it's in use without having a full-extension drawer protruding into your workspace, so it's a smart solution for busy spots in your kitchen. You can use USB ports instead of typical electrical outlets too. This means all you need is a cable to plug in your device, and you can skip the adapter. When you have a small space or when you're in a rush, that little change can make a big difference. (USB outlets are quite common these days and can be found online or at your local hardware store.)
2. Open Shelves
Photo by Ogawa Fisher Architects
If you prefer to have charging stations instantly accessible and don't mind them being a bit more visible, try integrating them into open shelves, or little nooks in a pass-through space like this. Your small devices will be easy to tuck away, and they're partially hidden from view for a de-cluttered look.
3. Upright Niches
Sometimes it's not the devices you want to hide, just the many cables. This clever ledge has an angled back and a lip at the front that lets items lean back and stay in place while also covering up your view of any outlets or cables. Add a corkboard and you've got a fun feature that keeps the devices from being the visual focus.
4. Entry Cabinets
A small cabinet or console like this one, situated in a hallway or entry, can be a great place to drop your devices when you come home.If you've got modern wireless headphones with a chargeable battery, this is also a great place to charge those so they're right by the door next time you head out. A small hole cut into the back of the cabinet can allow access to an outlet so you can tuck items away in open shelves or compartments with doors.
Photo by Herrick Design Group
5. Shallow Cabinets
Similar to a tip-out drawer, a shallow cabinet like this can be a great way to use a thin space left at the end of a larger cabinet. A simple cabinet with doors is generally a less expensive solution than drawers and offers plenty of functionality. Include a deep lip on your interior shelves and you won't have to worry about large items falling off.
Photo by Jennifer Weiss Architecture
Photo by Behold Design
6. Recessed Cabinets
Storage niches are commonly used in bathrooms to get extra space for medicine cabinets or to house bath products in the shower, but this concept can be used in other rooms as well. A storage niche in the kitchen or office steals a bit of unused space to hold items such as a wireless internet router. While the wall is open for creating the niche, why not use the opportunity to route in power for a charging station as well?
7. Mixed-Use Cabinets
Don't like the look of a charging station, even behind closed doors? Put a small charging station within a mixed-use cabinet to distract from the "tech" look, and leave a few compartments free for your devices while allowing other shelves to hold attractive baskets, books or other items. This can be a great option for a mudroom, laundry room or entryway where you already need storage for other items, and the charging station is a great bonus.
8. Stand-Alone Cabinets
Keep in mind, a handy charging station doesn't always have to be part of a built-in cabinet. A freestanding hutch or cabinet can be a great place to add a charging station without having to retrofit any existing cabinets.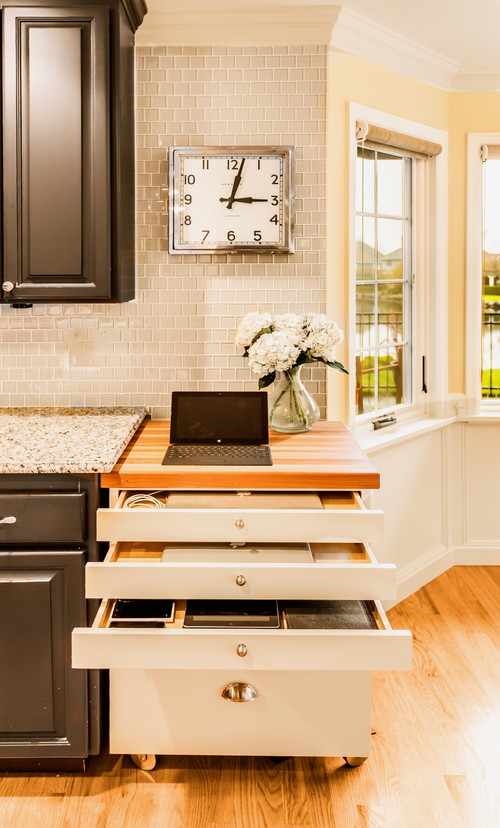 Photo by Design Harmony
9. Hide Them With Strategically-Placed Furniture
Get ready to put your inner interior designer to work for this strategy. Before you start decorating a space, take a good look at where fixtures will be placed and how you plan to run wires up, down or across the room. If you have vertical wires running up for lighting near a window, you can easily conceal them with the right window treatments. Don't fret if your wires don't land near a window; you can cover those with wallpaper, artwork, paneling or other decorations.
Hide lateral wires under stylish area rugs and disguise bedside cords behind chic headboards. If you have a home office, you can deliberately set up and arrange your desks, chairs and cabinets to hide your computer, printer and other electrical cables.
10. Use Conduits in a Stylish New Way
Take a cue from urban lofts and adopt the use of conduits. These metal pipes are making a comeback in home design and while they're still visible, they offer a stylish solution for bundles of wires and cords. Feeding electrical cables through enclosed metal casings also offers protection from circuit shortages and keeps multiple wires hidden in one conduit. If you don't have these installed in your home already, contact a local trusted electrician to get started.
Conduits will fit right in if you have an industrial vibe going on in your home. Although they are usually kept as-is, you can paint the metal casings to match your wall paint or highlight it even more with a fun new color.
11. Simple DIY Alternative

This project applies to renters and homeowners alike, so don't worry if you aren't allowed to paint the walls or drill holes in your walls. If you have multiple wires running together leading to the same output, use store-bought zip ties to bring them together and keep them fastened to a designated corner or area with eye hooks. If eye hooks aren't rental-friendly enough, try using a simple stapler to fix them to the wall and spot paint over them to match your existing wall color.
Alternatively, you can drill a hole into the back of a desk or bookcase to lead wires through furniture instead of around it.
Taken from Michelle Lee at Houze.com